Good evening, everyone. On behalf of the graduating class, I'd like to welcome all parents, teachers, honored guests and students to the graduation of 2019. It was about 11 years ago when I began my journey at Foothills Montessori. I remember it like it was yesterday. There I was, sitting on the P1 carpet with the other students, playing in Ms. Valerie's garden and using the peace rose to settle very important disputes. Those were the days, but we have come a long way since then. As the years went by, we encountered many challenges and obstacles that taught us how to learn from our mistakes and like Albert Einstein once said, "Failure is success in progress."  As we kept growing, we learned important life skills like organization, time management, responsibility and teamwork
Eventually, we got to middle school. These two crucial years taught us how to become independent and empathize with the world around us. We went from followers in preschool and kindergarten, always looking up to the "big kids" in E1, to ambassador leaders in middle school. We have made it to the top and we couldn't have done it without the support from our amazing teachers and parents. As John Irving once said, "You only grow by coming to the end of something and by beginning something else."
Even though our amazing journey at Foothills ends here, we begin another journey that will be filled with new opportunities and experiences. FMS has given us the foundation we need to succeed in life and we will never forget how this school has shaped us into the people we are today.
While we have cherished every moment at this school, it is now time for my peers and I to look up to the future and prepare ourselves for the challenges ahead. When I look at my classmates, I see future scholars that can achieve anything and I am excited to see them go far in life. If you think about it, some of us have spent around 108 months together, and during this time we have been through both cheerful and heartbreaking memories, from our fantastic school trips to the devastation on October 1st, 2017. After today, we will part ways and take different paths. Most of us won't see each other after tonight. And if you find yourself a little anxious about starting at a new school, just remember this; the sky's the limit, so look up and soar like a falcon.
https://staging.foothillsmontessori.com/wp-content/uploads/2019/05/48S_0080-Kian.jpg
1469
2448
nruiz
https://foothillsmontessori.com/wp-content/uploads/2016/07/foothills-logo-300x87.png
nruiz
2019-05-31 09:00:46
2019-05-31 12:48:46
Look Up…8th grade graduation speech by Kian Salek
"Happiness is absorption, and absorption is the opposite of willful attention." * The development of willful attention is a major goal of education, and specifically Montessori education.  Concentration, order, coordination and independence are the fundamental pillars of Dr. Montessori's educational philosophy and yet, now in this technological age when children spend very little time outside just hanging out and playing with what nature offers, FMS is embracing an educational initiative called "loose parts" and "tinkering."
It is a philosophy that advocates for more outside time in general for students doing common activities like reading and learning in small groups and, specifically, it also advocates providing students with common household items to "tinker with."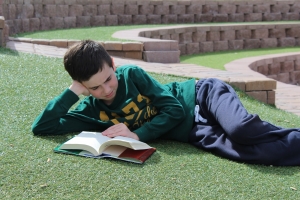 Teacher guidance is minimal and student creativity is dominant. Common items found at home like buttons, Q-tips, plastic hoses, smooth rocks, small sticks, etc. are offered to the students for them to handle and create freely.  Emphasis is on the process of grouping items together in unique ways, fulfilling a student's vision at that moment, then returning items to the shelf.  Nothing goes home, no product is made.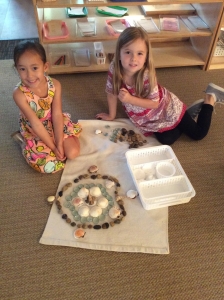 Tinkering allows for individual expression and creativity when children get their hands on materials and are experiencing the flow of the minute they are in.  It also encourages communications and socialization among students as they problem solve, negotiate solutions, and drive towards common visions.
Using small and large items encourages both fine motor and large gross motor skills. Ms. Val, lead teacher for the outdoor classroom, has been experimenting with this concept using big empty cardboard boxes to create a play space, along with setting up a "mud kitchen." She has seen very positive results.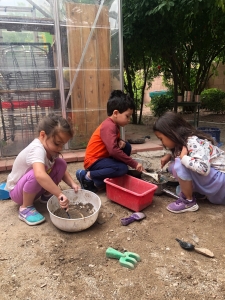 We are experimenting with this idea in our school overall and Ms. Rosie, our lower elementary head teacher and department head, is leading the charge to educate FMS teachers on the philosophy and practical application of this initiative.
Much of the idea is to do tinkering and "maker spaces" outside where large motor skills can be used to build temporary, interactive, child-directed applications. "Playing and experimenting are key themes for the loose parts philosophy with inspiration for this: Tinkering Tenets • Merge Science, Art & Technology (with the Outdoors!) • Reinvent old technologies (and discover new ones) • Use familiar materials in unfamiliar ways • Embrace your tools • Seek real-world examples everywhere • Create rather than consume • Put yourself in messy, noisy & sometimes dangerous situations."**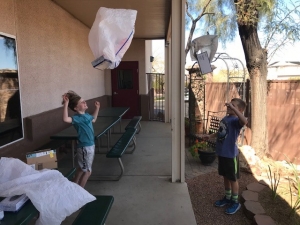 "Kids will play with anything.  Literally, ANYTHING. Early learning professionals frequently cite a long list of benefits that playing with loose parts bestows on developing humans: creativity, dexterity, problem-solving, socialization and teamwork, to name a few. Given the universal kid-love of building random stuff from random stuff, it is heartening to see designers exploring ways to bring this form of play out of the indoor environment and into the public arena."**
As FMS curriculum continues to build on the Montessori foundations, it also evolves to meet the needs of current students.  Bringing "loose parts" into the school and actively encouraging "tinkering" acknowledges the need for students to also have unstructured time for themselves to experiment, create, and interact with others in a social, temporary situation.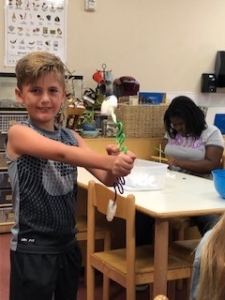 *A. Gopnik, New Yorker, 5/20/19
**The Art of Tinkering by Karen Wilkinson & Mike Petrich
https://staging.foothillsmontessori.com/wp-content/uploads/2019/05/pic1.jpg
1671
2500
Daniela Cuyun
https://foothillsmontessori.com/wp-content/uploads/2016/07/foothills-logo-300x87.png
Daniela Cuyun
2019-05-24 07:08:48
2019-05-24 07:08:48
Loose Parts and Tinkering
A component of academic success at FMS is for our parents to be well informed of the expectations students will encounter as they make major transitions from one plane of development to another.  Each of the major transitions brings an expansion and deeper exploration of the curriculum, including increased expectations of students functioning more and more autonomously. The best way for families to prepare for these transitions is to attend the re-enrollment information meetings provided by the faculty and intended for the parents of currently enrolled students. These meetings are excellent primers for knowing in advance what will be expected of students as they move into higher grades for the 2019-2020 school year and are ideal platforms for asking specific academic questions of the staff.  Thank you for appreciating the importance of these meetings and for helping to directly support your child through these transitions.  Please refer to the meeting schedule below:
January 30 @ 5:00pm  – pre-K students moving up to Kindergarten (children must be 5 by September 30th, 2019)
January 30 @ 6:00pm – 6th grade students moving up to 7th grade (parents of 5th grade students are also welcomed to attend to learn more about the middle school program)
January 31 @ 5:00pm – Kindergarten students moving up to 1st grade (lower el)
January 31 @ 6:00pm- 3rd grade students moving up to 4th grade (upper el)
https://foothillsmontessori.com/wp-content/uploads/2016/07/foothills-logo-300x87.png
0
0
nruiz
https://foothillsmontessori.com/wp-content/uploads/2016/07/foothills-logo-300x87.png
nruiz
2019-01-14 14:42:46
2019-01-14 14:42:46
Re-Enrollment 2019